Outdoor television in the Backyard.
Indoor TVs are designed for lower indoor brightness levels and often feature a high-gloss finish, which can make for a poor outdoor viewing experience. The completely weather proof SunBriteTV® Pro Series outdoor televisions are built to withstand whatever Mother Nature can throw your way, and do it in stunning 4K Quality Video.
---
Soundscape for your landscape.
We offer a wide variety of outdoor speakers. One of our favorites are landscape speakers. Designed to surround the entertainment area with sound, these outdoor speakers provide a full even experience. On the ground, in a tree, or underneath an eave – these speakers can be easily mounted in a variety of places for perfect coverage and performance. Add an outdoor in-ground subwoofer for the ultimate backyard set up.
---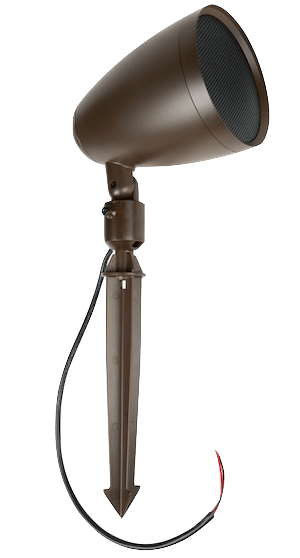 Weed wacker proof outdoor speakers.
An outdoor speaker should be able to stand up to tough weather. That's why this one was torture tested to extreme temperatures, from -20° to 185°Fahrenheit. Three feet of heavy-duty, burial-rated 16/2 cable and silicone-filled waterproof wire nuts ensure that this speaker will live a long, trouble-free life in any outdoor setting.
---
Build the perfect backyard.
Be the envy of the neighborhood with the ultimate outdoor entertainment system. Start small and grow your system over time. Outdoor entertainment systems have increase in popularity by more than 70% in the last year. They're a great way to add square footage to your living space without an expensive home remodel.
---